Faculty & Staff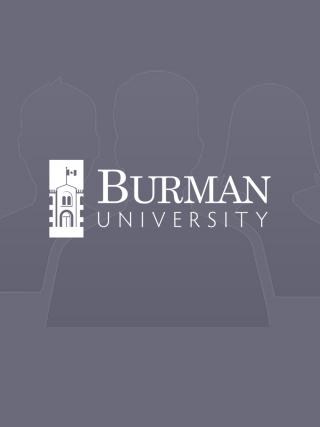 Laurie Ringer
(403) 782-3381 x 4085
Office location: West Hall
Professional website:
lringer@burmanu.ca
Education
PhD Medieval English Literature, University of Hull (2009)
MA Medieval Vernacular Languages and Literatures, University of Hull (1997)
MA English Literature, Andrews University (1995)
BA English, Southern Adventist University (1992)
Areas of Expertise
Affect theory
Speculative fiction
Popular culture
Intersectional feminisms
Late medieval/early modern literatures
Art and lit intercrossings
Quantitative and qualitative textual analysis
Biography
Laurie Ringer puts her late medieval/early modern skillsets to work with affect theory and speculative fiction. Her research fuses traditional and experimental, canon and fandom, late medieval and early modern, early and contemporary, theory and text, material and digital, and text and art.
Current Research or Professional Activities
Current projects include three forthcoming book chapters, a number of articles, and a book of feminist updates to affect theory explored through diverse speculative fiction.
Publications
Articles
"Entangled States: Putting Affect Theory into Play with John Burnside's A Summer of Drowning." Journal of European Popular Culture 9.1 (2018): 43-57
"'With Teeth': Beyond Theoretical Violence in Gothic Studies." The Dark Arts Journal: New and Emerging Voices in Gothic Studies 2.1 (2016): 19-38
"The Silence between Words: Events of Becoming through Trauma in A.L. Kennedy's 'What Becomes.'" Journal of the Short Story in English 62 (2014): 131-147
Book Chapters
"Years of Teaching Dangerously: Interfacing Thomas Cromwell in Canon and Fandom, Michael Drayton, 'W.S.', and Hilary Mantel." Theory Lessons: Putting Theory into Practice in the Contemporary Classroom. Editor Becky McLaughlin. Newcastle, England: Cambridge Scholars, 2017. 201-225. Postprint copy uploaded to Humanities Commons.
Conference Papers
"Entangled States: Putting Affect Theory into Play with Nnedi Okorafor and Ann Leckie." PCA/ACA Conference 28-31 March 2018, Indianapolis, IN. Presentation 29 March 2018.
Reviews
"'Our Wrecked Present' and the Unwritten Future: Andrew Tate's Peripatetic Fictions." Fantastika Journal 2 (2017).
"Tarzan, Cheemo and Teddy Drink Beer and Meet Aliens at the Lake. No, Really, They Do: Drew Hayden Taylor's Irreverent Indigenous SFs." Fantastika Journal 1.1 (2017): 227-231
Datasets
The Wycliffite Repository. December 2014.
An online select concordance generated from an assemblage of 432 Middle English texts, makes my work freely available for consultation. The complete project is 2,845 pages in print. Each section is a separate dataset including: the Headword List, Variants and Occurrences, Text List alongside 20 alphabetical datasets, for a total of 23 datasets.