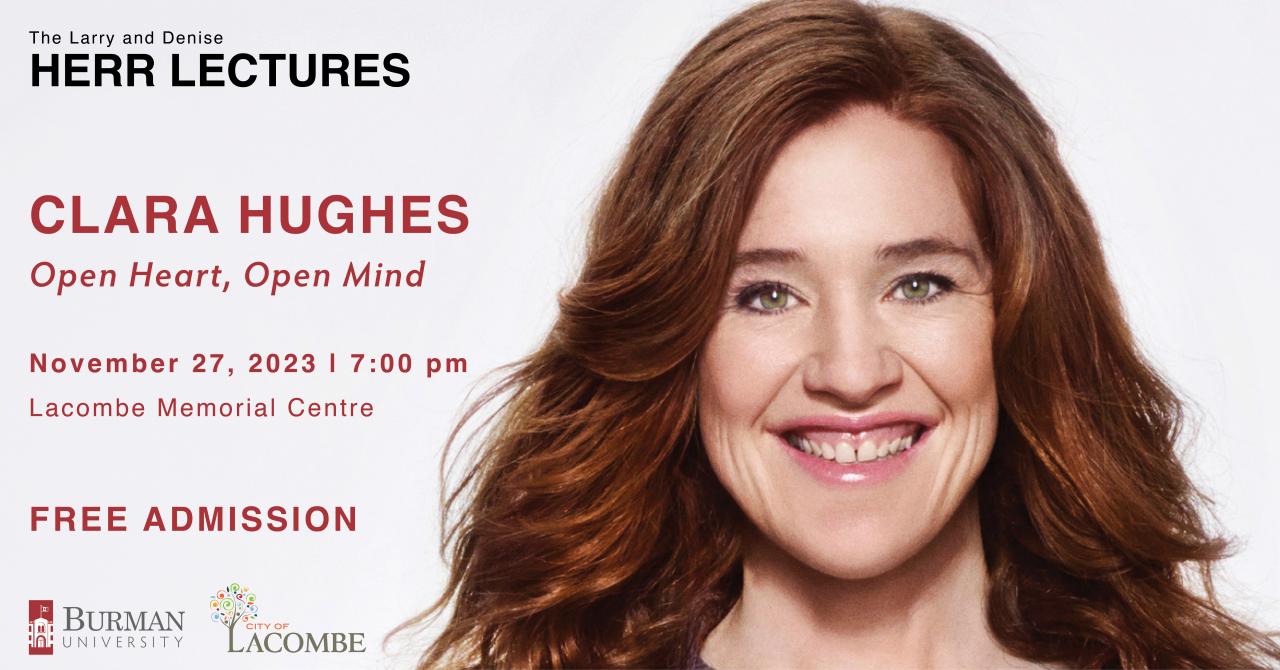 The Herr Lectures, in partnership with the City of Lacombe, is excited to host Clara Hughes who will be presenting, Open Heart, Open Mind.
Hughes is the only athlete in Olympic history to win multiple medals in both summer and winter Games, representing Canada in both speed skating and cycling. In addition, she served as Team Canada's flag-bearer at the 2010 Vancouver Olympic Games.
As the founding spokesperson for Bell Let's Talk, a campaign designed to end the stigma attached to mental illness, Hughes helped jumpstart the conversation on mental wellness. In 2014, she completed a 110-day national bicycle tour through every province and territory in Canada called "Clara's Big Ride". She covered more than 11,000 kilometres, visited 105 communities, and hosted over 235 events to raise awareness for mental health. She is also the author of the bestselling memoir, Open Heart, Open Mind.
Hughes' Herr Lecture presentation is a raw but life-affirming story of one woman's struggle with depression. In a world where winning meant everything, her biggest competitor was herself. After more than a decade in the grueling world of competitive sports that stripped away her confidence and bruised her body, Hughes began to realize that her physical extremes, her emotional setbacks, and her partying habits were masking a severe depression. After winning bronze in the last speed skating race of her career, she decided to retire from that sport, determined to repair herself. She has since emerged as one of our most committed humanitarians, advocating for a variety of social causes both in Canada and around the world. Hughes' lecture will move and inspire you.
Tickets are free so register today!