The certificate in Health Sciences is the pathway to the Bachelor of Science in Nursing (BSN) provided through a transfer partnership with Kettering College in Kettering, Ohio.
The prelicensure Bachelor of Science in nursing degree is an innovative program designed to prepare individuals for professional nursing practice and leadership. Students begin by taking a year and a half of prerequisite arts and science courses which provide a solid foundation to begin nursing courses in year two of the program.
Degree Details
BSN-9 Semesters:
Students enroll full time in the program and attend courses at Burman University for a year and half (fall, winter, and fall semesters), then transfer to Kettering College for two years of full time study (fall, winter and summer semesters). Graduates are qualified to take the National Council Licensure Examination for Registered Nurses (NCLEX-RN) in the state of their choice or Canada. Clinical experiences take place at Kettering College. As an integral part of the Kettering Medical Center and the Kettering Health Network, a rich array of clinical experiences occur within the hospitals of the Kettering Health Network, as well as in a variety of excellent healthcare facilities within the community. As part of this partnership students transferring from Burman University to Kettering College will receive a 25% discount on their Kettering tuition.
Learn More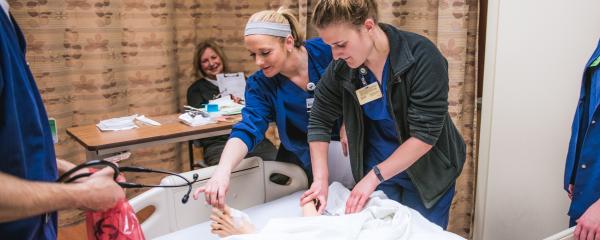 Need more information? Check out the resources below to find what you're looking for, or contact our admissions office.
If you have more questions
Simply fill out the form below and one of our Advisors will provide any extra information you need and help you with your concerns about this program.