Peacebuilders is an engaging and transformative leadership program for young people ages 16-28 who are interested in building a human rights community in Central Alberta. Participants create and implement positive actions for change in the community. They play a critical role in advancing the voice of Central Alberta's younger generation on issues related to peace and human rights. Participants deepen their understanding of Central Alberta's diverse cultures, faiths, perspectives and ways of being, through local study tours and engaging workshops. Participants develop skills in communication, critical thinking and leadership.  Peacebuilders is collaborative project of the John Humphrey Centre of Edmonton and the Centre for Peace and Justice.
REGISTRATION INFORMATION:
Place: Various locations in Red Deer TBA
Dates: February - April 4, 2019
Day: Thursdays, 5:00 pm - 9:00 pm (supper will be served)
The program is free but space is limited to 20 participants. Acceptance into program is based on an application process and is not guaranteed.
Parental consent is required for anyone under the age of 18.
CONTACT INFORMATION
John Humphrey Centre for Peace and Human Rights
info@jhcentre.org
(780) 453-2638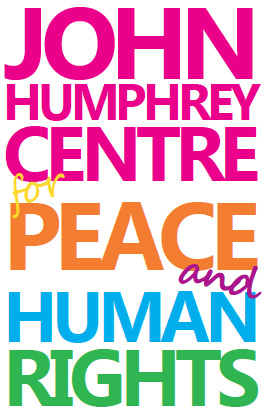 Centre for Peace and Justice
glengraham@burmanu.ca
(403) 307-3491
MORE INFORMATION:
The program includes six dialogue sessions and field trips to local cultural centres and houses of worship as well as action planning sessions.
Peacebuilders meet, engage with, and learn from members of various social, ethnocultural and faith communities; reflect on key issues related to diversity and human rights; and, explore Canadian history, identity and values. A dialogue to action process facilitates new relationships while engaging participants in change-making planning sessions.
As Peacebuilders, participants will play a critical role in advancing the voice of Red Deer's youth on issues related to diversity, inclusion and human rights and will work together to build a community where the rights and dignity of all are respected and upheld. 
Participants will develop skills such as:
● Listening skills
● Facilitating and creating a safe space
● Critical thinking
● Problem-solving and action planning skills  
● Allyship, (how to be an ally + learn how to make someone feel comfortable when it comes to how his/her religion or culture affects his/her everyday activities)
● Cultural Competency
● Knowledge of rights pertaining to religion (what are religious rights?)